Stop the Most Sophisticated Cyber Attacks
With Layered Next-Gen Endpoint Protection
Bitdefender GravityZone Elite
Featuring Endpoint Security HD
Protect your enterprise against the full spectrum of sophisticated
cyber threats with speed and accuracy
To effectively protect you against highly sophisticated cyber attacks that evade conventional endpoint security tools, you need a layered defense approach with multi-stage
signature-less technologies including advanced machine learning, behavioral analysis, anti-exploit and integrated sandbox.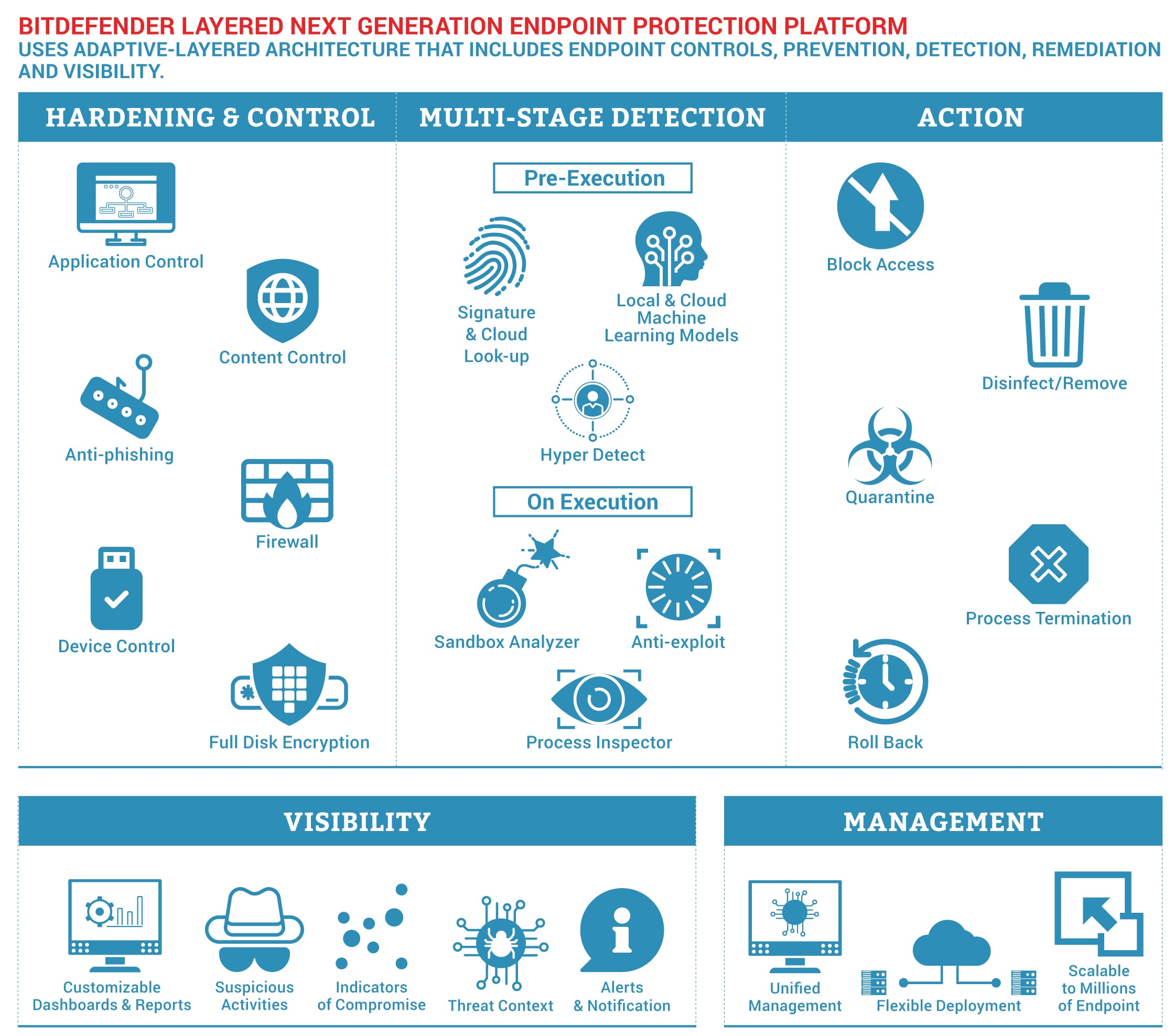 GravityZone Endpoint Security HD provides a layered next-gen architecture that delivers prevention, detection, remediation and visibility in a single modular platform.
HyperDetect™
Blocks Attacks at Pre-execution
GravityZone Endpoint Security HD comes with HyperDetect, a next-gen layer in pre-execution, uses specialized local machine models, behavior analysis techniques trained to spot
hacking tools, exploits and malware obfuscation techniques. It effectively blocks attacks that both traditional endpoint and so-called "next-gen AV" defenses miss.
Exploits
File-less attacks
Powershell and other script-based attacks
Ransomware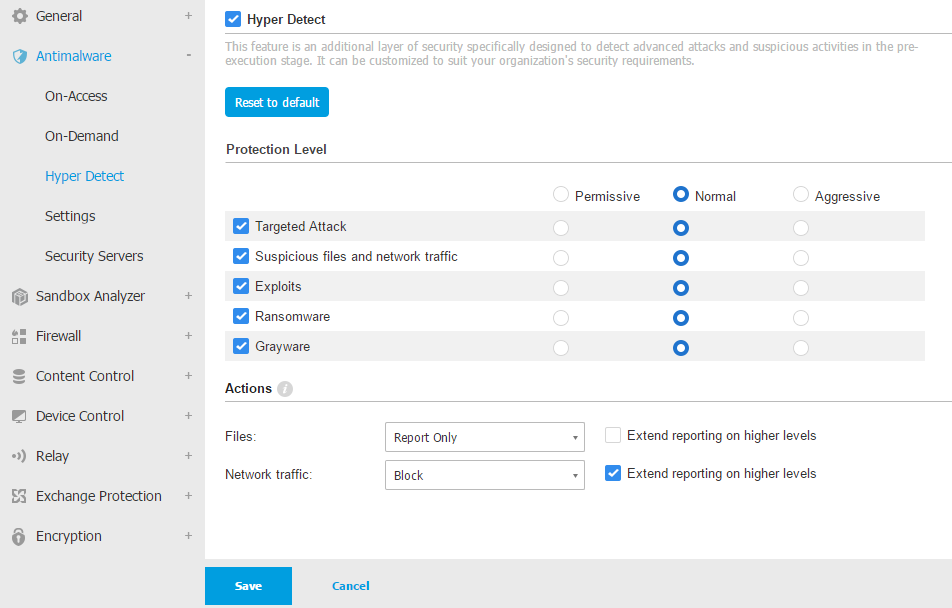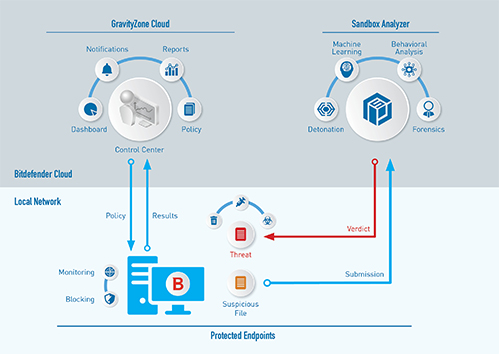 Sandbox Analyzer
Enhances Targeted Attack Detection
A powerful layer of protection against stealthy attacks, the endpoint integrated Sandbox Analyzer detonates payloads in a contained virtual environment, analyzes their behaviors, reports malicious intent and provides actionable insight.
Automatic and manual file submission
Cloud hosted infrastructure
Machine learning & behavior analysis
Threat forensic
Threat Context and Visibility
Identify and report on suspicious activities
Gain early visibility into valuable Indicator of compromises (IOC)
Sandbox Analyzer provides insight into malicious behaviors with detailed reports
Detect and Stop File-less Attacks with Process Inspector
Highly effective in detecting and stopping file-less attacks, Process Inspector (a part of ATC) continuously monitors all running processes and hunts for suspicious activities or anomalous process behaviors. Once it reaches a malicious verdict, GravityZone takes immediate remedial actions, including process termination an rolling back malicious changes.
Operational Efficiency
Single, integrated endpoint security agent
Eliminates agent fatigue
Modular-designed agent, customizable installation package
Small footprint, low end-user impact
Unified security management platform to protect physical, virtual, and cloud infrastructure
Automatic and Immediate Response
Bitdefender GravityZone Endpoint Security boasts the industry's best malware-removal technology. Once a threat is detected, it instantly takes action to neutralize it:
Process termination
Quarantine
Removal of all remnants
Roll back malicious changes
No More False Triggers or
Missed Threats
Endpoint Security HD is the only endpoint security platform that can expose suspicious files and activities it observes on the endpoint (regardless of where customers set the blocking level) as well as provide detailed endpoint optics and indication of early stage of attacks.
Compare Endpoint Protection
Conventional endpoint security solutions—originally designed with hardware-defined, premise-based
infrastructure in mind—are unsuitable for the software-defined datacenter as they are inefficient.
Security for Endpoint
Machine Learning AV
Anti-Exploit

Process Inspector
Web Security& Anti-Phishing
Ransomware protection
Web-content control
Device Control
Client Firewall
App-Control
Clean up
Endpoint Security HD
Machine Learning AV
Anti-Exploit
Hyper Detect
Endpoint Integrated Sandbox
Visibility of suspicious activities
Process Inspector
Web Security & Anti-Phishing
Ransomware protection
Web-content control
Device Control
Client Firewall
App-Control
Clean up
Proven Long-term Track Record
Bitdefender consistently demonstrates superior capabilities in independent tests. In 2016, 2015 and 2014, Bitdefender
had the highest overall score for protection, performance and usability in AV-Test Endpoint protection trials
Consistently superior protection, performance, and usability, proven in major independent tests
Requirements
---
GravityZone Endpoint Security HD

Workstation OS: Windows 10 RS2/RS1/TH2/TH1, Windows 8, 8.1, Windows 7 SP1
Windows tablet and embedded OS: Windows Embedded 8 Standard, Windows Embedded 8.1 Industry, Windows Embedded Standard 7, Windows Embedded POSReady 7, Windows Embedded Enterprise 7
Server operating systems: Windows Server 2016, Windows Server 2012, Windows Server 2012 R2, Windows Small Business Server
(SBS) 2011, Windows Server 2008 R2, Windows Server 2016 Core
LICENSING OPTIONS
GravityZone Endpoint Security HD is included in the Bitdefender GravityZone Elite suite (Cloud-managed).
GravityZone Elite suite also includes Security for Endpoint running on Windows, Mac and Linux
Security for Exchange
Security for Virtualized Environment (Datacenter security)